Mechanical Product Partner
Rotork
Rotork is the market leading actuator manufacturer and flow control company that operates in any market where the flow of gases or liquids need to be controlled. Rotork is a global company with local support, they provide assured reliability for critical applications and environments.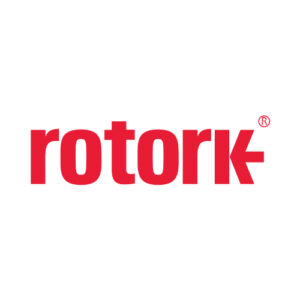 Rotork is the home of the flagship IQ intelligent electric actuator range. The IQ range features legendary innovations including Rotork's unique double-sealed enclosure, 'non-intrusive' infrared commissioning, data logging and predictive maintenance capabilities. More recent innovations include the advanced display, Bluetooth® communications interface and absolute encoder.
The IQ functionality and reliability is available for valves of virtually every size and description, including multi-turn (rotary), quarter-turn, isolating and modulating, with watertight and hazardous area approvals to all internationally recognised standards.
Electric actuator ranges also include the AWT for simplified control duties, ROM, ROMpak and Q direct drive actuators for small quarter-turn valves.
Rotork actuators are compatible with a wide range of communication and process control systems. Rotork's own Pakscan™ system offers advanced actuator network control similar to network control from Profibus®, Foundation Fieldbus®, Modbus®, DeviceNet® and HART®.
Rotork's product offering of fluid power actuators encompasses GP, CP and RC200 / RCI200 ranges of scotch-yoke pneumatic actuators, GH (scotch yoke) and RH (rack and pinion) hydraulic actuators, the GO range of gas-over-oil actuators, the HPG range of high-pressure direct-gas actuators and the Skilmatic range of electro-hydraulic actuators.
In addition to quarter-turn designs, most ranges are also available for linear valve applications. Many actuators are built for critical high-speed fail-safe or emergency shutdown (ESD) duties in harsh locations, including subsea actuators for valves at depths measured in hundreds of metres.
Control valve actuators for control of flow or pressure in a process and motion control in other applications.
CMA – These modulating actuators deliver a series of sizes suitable for linear, quarter-turn and rotary control valve and pump applications requiring exact position control and restricted continuous modulation. Optional Local Controls with LCD Display (linear, quarter-turn, rotary) as well as Local Controls with LCD Display Plus Supercapacitor Reserve Power Pack (RPP) (linear and quarter-turn only) units available.
CVA – Uses advanced motion control technology to provide exceptional positioning and dynamic performance. Super-capacitors used for fail to position capability. Actuator calibration, configuration and interrogation are performed non-intrusively using wireless Bluetooth communications. Linear and quarter turn outputs available.
Heavy duty damper drives for air and gas flow control in boilers and heaters.
LA2000 – A range of linear output drives with a variety of travel lengths to provides burner shroud and damper automation. These are compact and cost effective solutions to damper automation. LA-2400 LA-2500
SM-1700/SM-5000 ranges provide proven reliability for dampers requiring rotary drives regardless of damper size.
SM-6000 is the most accurate damper drive available, providing fast reaction time and high precision for unparalleled boiler air and flue gas control.