Electrical Power Product Partner
SPX
SPX Corporation (NYSE: SPXC) is, along with its subsidiaries, a diversified, global supplier of infrastructure equipment with scalable growth platforms in heating, ventilation and air conditioning (HVAC), detection and measurement, and engineered solutions. With operations in 17 countries and approximately $1.4 billion in annual revenue, we offer a wide array of highly engineered products with strong brands.
HVAC solutions offered by our businesses include cooling towers, residential and commercial boilers and comfort heating products. Our detection and measurement products encompass underground locators and inspection equipment, fare collection systems, communication technologies and specialty lighting. Within our engineered solutions platform, we are a leading manufacturer of medium and large electrical transformers, as well as cooling towers and heat exchangers for industrial applications.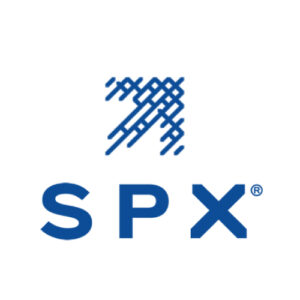 Waukesha Power Transformers
The fundamental Waukesha® power transformer design and engineering technology is based upon design criteria which is focused on reliability and has been field-proven in more than forty years of production. SPX Transformer Solutions has decades of renowned transformer design and manufacturing experience. Every Waukesha® transformer features core form construction. Our medium and large power transformers are built with copper windings in a circular configuration and are continuous disc and/or helical in design. When a load tap changer is provided, separate, fully distributed regulating windings are utilized to reduce ampere-turn imbalance which results in lower axial short circuit forces and minimizing of localized hot-spot temperatures.
Through precise calculation of electrical, mechanical and thermal stresses, SPX Transformer Solutions ensures adequate design margins, guaranteed performance values and high reliability standards.
A fully parametric, 3-D modeling computer-assisted design program is used to combine customer specifications and proprietary electrical design parameters into a finished mechanical design. SPX Transformer Solutions' proprietary mechanical design rules – developed using finite element analysis tools for the highest accuracy of stress calculations – are preprogrammed into the design software. A tank-sizing program uses the same information to generate the optimal tank design. Before production, the design is reviewed, verified and finalized by a mechanical designer to assure proper electrical clearances and optimal use of materials. If a modification is needed, the dynamic model makes 3-D changes in onemillimeter increments! Approval and final drawings, created to scale from the actual parametric model, allow for precise overall dimensions and major equipment/accessory locations.
SPX Transformer Solutions expands its "standard" transformer design expertise with global leadership in the use of Envirotemp™ FR3™ fluid for power transformer design and production. FR3 fluid is a patented, natural ester dielectric coolant made from a formulation which includes vegetable oils. It is a biodegradable, nontoxic and environmentally-friendly material with less flammable characteristics. Laboratory data shows that FR3 significantly slows the aging rate of cellulose insulation when compared to transformers using mineral oil.
We utilize many sophisticated computer programs for designing transformers including:
• Cost and performance optimizing programs
• Electromagnetic flux plotting software
• Electrical Transient calculation software
• Short Circuit Analysis software
• Stray and Eddy Loss calculation software
• Reactance calculation software
• Thermal modeling software
• Cable and Lead Temperature Rise calculation software
• Tank Wall, Clamp, Flux Shield Loss and Temperature Rise calculations
Experience
SPX Transformer Solutions operates manufacturing facilities in both Waukesha, Wisconsin and Goldsboro, North Carolina. With 80+ years of combined manufacturing experience, our strength in design, engineering, manufacturing, testing and customer service is unrivaled.
Surveys conducted by independent industry organizations indicate our transformers rank among those of top tier industry manufacturers. Our substantial design margins for electrical, mechanical and thermal stresses – developed and tested over years of manufacturing transformers – combined with our manufacturing expertise help make these rankings possible.
Our commitment to product advancement is demonstrated by a dedicated Research and Development team, complete with engineering staff. SPX Transformer Solutions supports and participates in many industry groups and organizations including IEEE, CIGRE, AEIC, EPRI, Doble, Weidmann, NRECA, NWPPA, RMEL and IEC. Plus, we are a fully approved supplier by RUS – with and without Load Tap Changer!
Reliability
Every Waukesha® power transformer design is analyzed for proper management of through-fault initiated mechanical forces and to assure that maximum hot-spot temperature ratings are within allowable limits by substantial margins. State-of-the-art analytical tools test the ability of our products to withstand all known stresses. Stresses analyzed include the following:
• Through-fault events caused by line-to-line and/or line-to ground faults
• Transient overvoltages due to natural (lightning) and man-made (switching) surges
• Overheating from improper design of windings and structural parts
• Overloading beyond nameplate ratings
• Mechanical stresses caused by transportation and seismic activities
Many manufacturing processes and procedures are used to increase reliability, including:
• Vapor Phase drying and vacuum filling to ensure maximum of 0.5% moisture content
• Minimum bolted electrical joints – we use brazing or crimping wherever practical
• SPX Transformer Solutions quality assurance and product testing exceed industry standards
Our load tap changer, the UZD®, boasts an excellent field performance record. It is designed for high reliability and low total operating costs, with more than 6,400 units currently in operation. Design improvements introduced in 1997 lowered the failure rate on the UZD® from 0.16% to less than 0.05%. Our LTC meets all requirements of the IEEE standard for load tap changers (I.E.E.E. C57.131-1995).
Service
Waukesha® Service provides total transformer service solutions up to 765kV. Our service team focuses on maximizing the performance, reliability and working life of all the transformers and load tap changers throughout a customer's electric power system, whether manufactured by SPX Transformer Solutions or other suppliers. Our team's mission is to keep transformers up and running 24 / 7 / 365 by providing responsive and cost-effective service and maintenance support.
The dedicated technicians in the Waukesha® Service organization receive extensive factory-supported technical and safety training. Each technician is backed up by the engineering and technical support resources of SPX Transformer Solutions – an industry leader in transformer design, manufacturing and product support.
Our services include:
• Transformer Installation and Logistics
• Transformer Acceptance Testing
• Transformer Maintenance
• Transformer Oil Processing
• Natural Ester Fluid Retrofills
• LTC Maintenance
• Technical Services
– Thermal Uprates
– Component Retrofits
– Condition Assessments
– Life Assessments
– Technical Supervision
– Failure Analysis
– Feasibility Studies
• Operations and Maintenance Training
• Renewal Parts and Components
Commitment
Delivering on our commitments every day with the highest standards of quality to:
• Our Customers
• Our Employees
• Our Suppliers and Channel Partners
• Our Shareholders
• Our Communities
We pledge our commitment to provide the products, services and support that meet or exceed our customers' expectations – every day, every order, every unit.
LARGE POWER TRANSFORMERS
Our large power product line includes transformers that are top rated to 1200 MVA, up to 345kV.
MEDIUM POWER TRANSFORMERS
SPX Transformer Solutions designs, manufactures and tests a complete line of self cooled medium power transformers rated from 2.5 to 100 MVA with primary voltages through 345kV, including:
• Substation Transformers
– Single- and Three-Phase
– Two and Three Windings
– Optional Load Tap Changer
– Series Parallel Reconnectable
• GSU (Generator Step-Up) Transformers
• Unit Auxiliary Transformers
• Station Service/Start-Up Transformers
• Auto Transformers (Three-Phase or Single-Phase)
• Zig-Zag Grounding Transformers
• Special Duty Transformers (Motor Starting, Low Impedance, Pulse Loading, etc.)